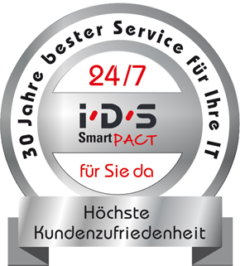 IT procurement with benefits
IDS supplies manufacturer-independent hardware, software and services for your entire IT infrastructure.
IT projects can be complicated and time consuming when dealing with multiple technology vendors. The IDS system specialists will be happy to support and accompany you during the procurement process.
With our 30 years of experience and the necessary technical know-how, which our trained and certified IT personnel bring with them, you can expect a qualified, efficient and professional execution of your project.
We get your IT up and running!
5 reasons to implement your hardware projects

with IDS

IT procurement with benefits
Since 1991 Inter Data Systems GmbH offers efficient consulting, competent service and comprehensive support for your IT infrastructure. With 30 years of experience in the global hardware business, we are the ideal partner for your procurement projects. Our certified IT experts have the technical know-how to give you the ideal advice, regardless whether the hardware is to be new, used or refurbished.
As an independent system house, we are not bound to the products of specific manufacturers or software houses, so independent, cross-platform and objective consulting is important to us. The requirements of your individual solution are in the foreground.
Our solution for your success
What makes our consulting special? We do not sell you a solution "off the peg"! Together with you, we analyze your needs and define your goals in order to develop an individual solution that fits your needs.
Every customer is different, every solution individual. Many years of experience and a high degree of expertise from many successful projects distinguish us in particular. Inter Data Systems' customers are a diverse mix and come from all industries. We are proud of each of our customers, from one-man ventures to multinational corporations.

Hardware-as-a-Service
Those who want to stand out in todays market not only have to continuously adapt business processes, but also very often have to renew the underlying hardware and software packages of the IT infrastructure. However, new cost-intensive hardware does not necessarily have to be purchased. Inter Data Systems GmbH offers its customers interesting rental and lease models.
The contract period is usually between one and several years. If there is a bottleneck, you can also rent the required equipment at short notice and for shorter terms. The greatest cost advantages of Hardware-as-a-Service, however, arise with longer terms, since here, in addition to repair and maintenance of the hardware, comprehensive service packages can also be rented.

Hardware - new, used, refurbished
You are looking for hardware and already have a concrete idea of your needs? Great, then we are happy to support you in the procurement, just tell us your requirement and get your non-binding offer.
If used or refurbished hardware is also an option for you, Inter Data Systems is the right partner for you. Due to our 30-year market affiliation and our worldwide broker network, we are able to procure almost any used device for you, regardless of age. The same applies to spare parts!
Tell us your requirements and request your individual and non-binding offer.
We advise you competently and independently of manufacturers!

Refurbished hardware
In order to meet the increasing technology and user requirements, the IT infrastructure in many companies is constantly being renewed. Due to the longevity of IT equipment, however, the IT components can and should continue to be used, whether in one's own company or elsewhere. The hardware continues to be just as functional as new and has already been in use, which in turn confirms its function.
Reusing hardware is environmentally sustainable and makes good business sense. We are so confident in our refurbished hardware that we give our end customers a lifetime warranty on all our refurbished products.
Reconditioning / Refurbishing at Inter Data Systems GmbH means:
Cleaning of the systems, data deletion according to specified standards, system & function test, restoration of the delivery condition, recording of all relevant system information in logs.
No device leaves our central warehouse without the Inter Data Systems "Quality Check"!